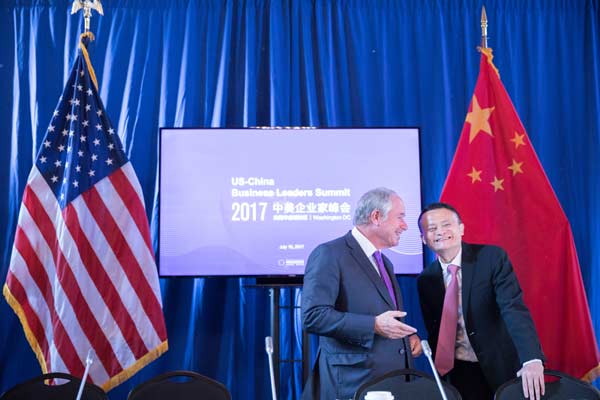 Jack Ma, executive chairman of Alibaba Group, chats with Stephen Schwarzman, chairman of the Blackstone Group, during the US-China Business Leaders Summit on Tuesday at the US Commerce Department in Washington. [Photo provided to China Daily]
Eight prominent business leaders from China, led by Jack Ma, founder and executive chairman of the Alibaba Group, and 12 from the US, led by Stephen Schwarzman, chairman and CEO of The Blackstone Group, gathered in Washington for the inaugural US-China Business Leaders Summit on Tuesday.
Both sides agreed to establish an annual dialogue to offer both governments solutions to pressing challenges in the China-US economic relationship, according to a joint statement released after the summit.
The first meeting was marked by "constructive and positive" dialogue, it said.
The group discussed economic issues of mutual importance to both countries. Both sides agreed that as business leaders, they have critical interests in and a responsibility to promote a steady and positive economic relationship between China and the US.
"As entrepreneurs, we should utilize our wisdom and capacity to solve trade issues, rather than create trouble," Ma said.
"We're here to solve the problems of the future, not the problems of yesterday," Ma continued. "The economic dialogue between China and the US should have a good vision that helps to solve problems rather than fight with each other."
The summit was first proposed by Ma to US President Donald Trump in January, with the purpose of encouraging business leaders from China and the US to get involved more actively in the steady development of China-US economic relations.
Trump celebrated American-made products on Monday.
"We want to build, create and grow more products in our country using American labor, American goods and American grit," Trump said on Monday.
"China is the best market for commodities that are made in America," Ma said. "In the future, there will be less and less 'Made in China' or 'Made in America'. There will be 'Made in internet'. Everything in the world is all connected. We call it e-commerce today; we'll call it e-business in the future."
Ma said globalization could not be stopped. "The good thing is that I think President Trump listens. Initially, President Trump and I had different viewpoints. After I talked with him, he thinks what I said made sense. Then I found out he did change and follows a path that leads to a better way," Ma said.
The success of the meeting was rooted in the foundation established in President Xi Jinping's and Trump's meeting in April at Mar-a-Lago in Florida.
"The first 100 day has been reached. But I think the past 100 days is just a start. We should create more 100 days for China and the US. And it requires the efforts of us entrepreneurs," Ma said.