Xi backs DPRK development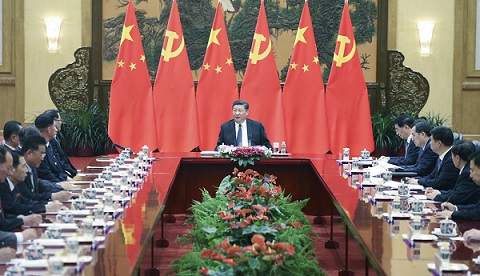 President Xi Jinping, also general secretary of the Central Committee of the Communist Party of China, meets with a visiting group of officials from the Workers' Party of Korea led by Pak Thae-song, member of the Political Bureau and vice-chairman of the WPK Central Committee of the Democratic People's Republic of Korea, in Beijing on Wednesday. YAO DAWEI / XINHUA
He proposes close exchanges with neighbor
China supports the Democratic People's Republic of Korea in developing its economy and improving the people's livelihood, President Xi Jinping said on Wednesday.
Xi made the remark while meeting with a high-level delegation led by Pak Thae-song, a member of the Political Bureau and vice-chairman of its Central Committee of the Workers' Party of Korea, at the Great Hall of the People in Beijing. The delegation consisted of senior officials from all provinces and cities of the DPRK.
China supports DPRK top leader Kim Jong-un to lead the DPRK's party and people to a development path that suits the country's situation, Xi said, adding that Beijing would like to deepen exchanges of governance experience with Pyongyang and push the two countries' building of socialism to obtain more progress.
Xi also said that China supports improvement of north-south relations on the Korean Peninsula, promotion of dialogue between Pyongyang and Washington and achievement of denuclearization of the peninsula.
During the meeting, Pak extended Kim's greetings to Xi, and Xi also asked Pak to extend his greetings to Kim.
Xi recalled Kim's two recent visits to China — one in March and the other last week — saying that he and the DPRK's top leader have had communications on major issues that concern both sides, and such communications have set the direction of China-DPRK relations in the new era.
The DPRK delegation's visit is a concrete way to implement the consensus reached by the two leaders, and it is also an important exchange between the Communist Party of China and the Workers' Party of Korea, Xi said.