The roof of Beijing's new airport nears completion in January. Operations are to begin in October 2019. [Photo/Xinhua]
Beijing's new international airport will officially begin operations on Oct 1, 2019, authorities said on Wednesday.
The overall progress of the new airport fits with the original plan, the city government said, but this is the first time a specific date has been given.
All airport engineering projects will be completed by the end of June next year, with equipment testing completed over the next three months, Beijing Daily quoted authorities from the Beijing Municipal Commission of Housing and Urban-Rural Development as saying.
The airport terminal building was sealed on New Year's Eve and is currently in the decoration phase. Supporting projects from the municipal government are 90 percent complete, and the road overpass has been fully connected.
The construction of designated airline spaces is still on the way, with one-third of the slots for China Eastern Airlines and China Southern Airlines completed.
Construction of fuel supply storage is 30 percent finished. Airfield construction is nearly completed, at 92 percent.
The new facility is located between Beijing's Daxing district and Langfang, Hebei province.
When the facility is fully built, Beijing will have increased its new terminal areas up to 700,000 square meters. The airport will have four runways and 268 parking bays, which will be able to accommodate 620,000 flights per year.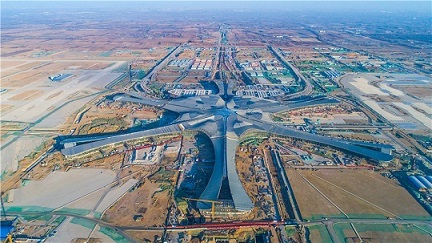 An aerial photo shows the construction site of Beijing's new airport in southern Daxing district in Beijing. [Photo by Yang Zhiyong/chinadaily.com.cn]
The airport, which is not yet named, was designed to ease the pressure on the Beijing Capital International Airport, which is overcrowded.
The long-term goal for the new airport is to handle up to 100 million passengers and 4 million tons of cargo each year.
A traffic transfer center will also be built inside the new airport, an aggregation of high-speed railways, subway lines and intercity trains linking to urban areas.
To shorten the walking distance for passengers, the airport will use distributed zones of operation. For example, from the center area to the farthest gate, a passenger will need to walk less than 8 minutes to cover a distance of 600 meters.
The distance for luggage delivery is also compartmentalized. Baggage will arrive in 13 minutes after flight arrival.
The Civil Aviation Administration of China said on Tuesday that it will encourage airline companies to operate in the new airport and will provide full support for companies wanting to become international airlines, as more of such airlines will ease the international flight burden.
Currently, Beijing has two airports that serve commercial flights-Beijing Capital International Airport and Beijing Nanyuan Airport.