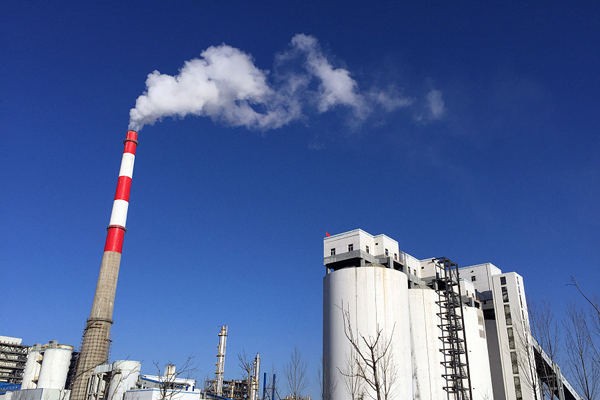 The chimney of a coal-powered engery factory emits waste gas in Xianyang, Shaanxi province. [Photo/VCG]
China's top environmental authority is flexing its muscles to take on polluting companies through more inspections and law enforcement. Fines levied on violators have soared in the past six months.
As of July 6, nearly two-thirds of 32,004 companies inspected in 28 cities in the Beijing-Tianjin-Hebei region, as well as neighboring regions, had committed various violations, according to the latest information from the Ministry of Environmental Protection, including excessive emissions and installing insufficient pollution control equipment.
The teams conducting the yearlong inspections - which began in early April and are the most thorough to be launched by the ministry - found that 6,662 companies with no operating licenses had polluted the environment severely.
"Such enhanced inspections can help local governments control air pollution in the region and nearby areas, and make companies comply with the environmental laws," said Tian Weiyong, head of the ministry's environmental monitoring bureau.
After the polluting companies are exposed for their violations, the city and county governments are forced to deal with the problems, he said.
More than 1,400 pollution-related problems have been solved by shutting down the companies' operations, according to the ministry.
The ministry will send inspectors to recheck the companies to ensure that problems have been rectified, Tian said.
"It's shocking to see the result that two-thirds are not compliant, which shows government officials don't always have the ability to enforce the law," Dimitri de Boer, head of ClientEarth China, an environmental NGO registered with the ministry, said on Sunday. But the inspections help to expose many problems and put environmental protection higher on the local agenda, he said.
In addition to the beefed-up inspections, environmental authorities nationwide have taken steps to control pollution through the help of the revised Law on Environmental Protection, which took effect on Jan 1, 2015.
In the first half of this year, the authorities issued fines totaling 610 million yuan ($90 million), an increase of 131 percent over the same period last year, according to the ministry.
In addition, more than 3,800 polluting companies were required to suspend production. People responsible for pollution at those companies and others - 3,939 cases altogether - were detained, the ministry said.
In addition to the inspections and law enforcement, to reduce pollution across the whole country, it's also important for the public to play a larger role, with ordinary people participating in supervision, Dimitri said.
Public participation will help bring environmental problems to light, helping governments find solutions, he said.