Japan-born panda cub to make public debut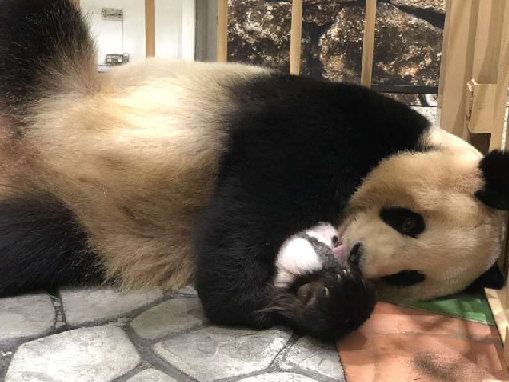 Rauhin and the cub. [Photo provided to chinadaily.com.cn]
CHENGDU - A female giant panda cub born at a zoo in Japan will make her first public appearance Thursday at the Japanese Zoo, according to a source with the Chengdu Research Base of Giant Panda Breeding in southwest China's Sichuan province.
The cub was born to a 17-year-old giant panda named Rauhin at the Adventure World Zoo in the town of Shirahama in Wakayama Prefecture on Aug 14. Under the care of the zookeepers and experts from the Chengdu Panda Base, the cub which only weighed 75 grams at birth has grown to 604 grams.
The public will be able to see the cub twice a day starting Thursday, once in the morning and once in the afternoon, and each visit will last 20 minutes. The zoo also launched a campaign for the public to name the cub.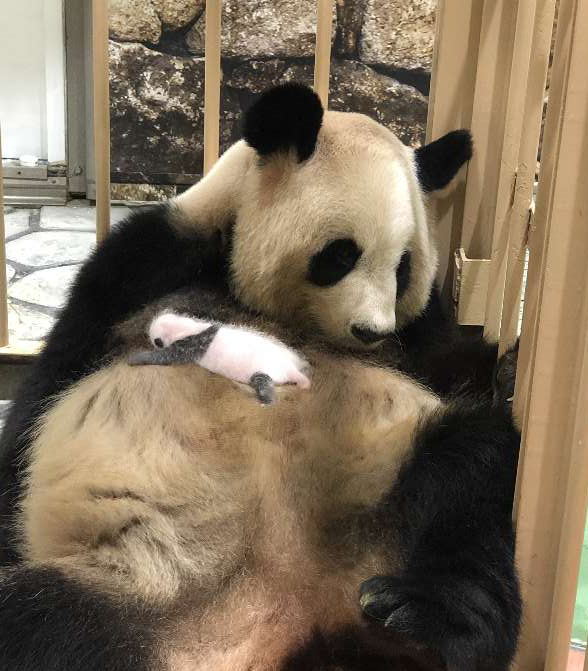 Rauhin and the cub. [Photo provided to chinadaily.com.cn]
The mother panda Rauhin mated with a male panda named Eimei in April. Eimei, aged 25, or in his mid-70s in human years, is the world's oldest male panda in captivity to have successfully produced offspring through natural breeding.
The Adventure World Zoo started the cooperation on giant panda research and breeding with the Chengdu Panda Base in 1994, marking China's first long-term international giant panda cooperation program. Over the years, 20 giant panda cubs have been born at the zoo, of whom 16 have survived, making it the most successful giant panda breeding cooperation program.