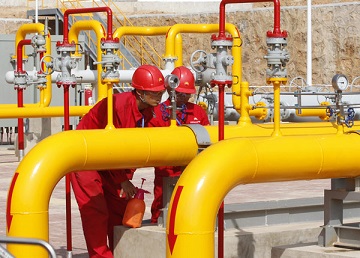 US-sourced liquefied natural gas pours in as China reaches for blue skies, diverse supplies
China significantly ramped up imports of liquefied natural gas in the first half of the year, as part of broader efforts to clean up its coal-dominated energy mix.
LNG channeled into the country totaled 15.89 million metric tons in the Jan-June period, a 38.3 percent increase year-on-year, according to data released by the General Administration of Customs on Sunday.
The growth rate, which was much higher than the 21.2 percent year-on-year increase for the same period last year, was boosted by the easing of barriers for LNG from the United States to enter the Chinese market, an analyst said.
"China is unlikely to sign long-term LNG contracts with the US soon, but it is already importing American gas from the spot market," said Wang Lu, an Asia-Pacific oil and gas analyst at Bloomberg Intelligence.
"Still, the US is already China's fifth-largest LNG supplier this year, accounting for 3.3 percent of imports in the first five months of 2017," Wang added
The country imported 400,000 tons of US gas in the first five months, in sharp contrast to zero imports a year ago, Vice-Premier Wang Yang said last Tuesday during his visit to the United States.
According to Wang Lu, the world's biggest energy consumer probably had the greatest increase globally in LNG imports in the first half of 2017, and might also see its natural gas imports continue to rise in the second half.
"Private companies such as Guanghui Energy and ENN Group have joined State-owned CNOOC Group, PetroChina and Sinopec in China's LNG receiving terminals business, increasing the channels for spot US LNG imports," he said.
The country's appetite for natural gas continues to rise as the government eyes more clean fuel to help gradually replace dirtier coal as a main source of energy.
Coal consumption accounted for 59.8 percent of China's overall energy use in the first six months of 2017.
China plans to increase its percentage of gas in primary energy consumption to a range of 8.3 to 10 percent in 2020, from 5.9 percent in 2015. To achieve the target, China will rely more on gas imports, Wang said.
To further boost the clean fuel's share in the country's energy mix, measures have been taken to encourage imports and exploit domestic shale gas reserves.
China Petroleum and Chemical Corp, the world's biggest refiner, also pledged to double its annual natural gas output by 2020 to reach 40 billion cubic meters.
The company's Fuling shale gas field, the nation's first commercial shale gas production facility which was launched in 2014, will reach annual output of more than 10 billion cubic meters by the end of this year, it said.
Wang said he believed the Fuling project, a key role in achieving China's goal of producing 80 to 100 billion cu m in 2030, will see its shale gas production contribute around 4 to 5 percent of China's total gas consumption by 2020.
China has also committed to expanding its gas pipeline networks, with natural gas pipelines reaching 123,000 kilometers by 2025, when all Chinese cities with more than half a million residents each will have access to natural gas consumption, according to the National Development and Reform Commission.
The country's natural gas pipeline network in 2015 reached 64,000 kilometers, and was expected to reach 163,000 kilometers by 2025, a 9.8 percent annual increase, the commission said
According to the Chinese government's 13th Five-Year Plan (2016-20) for natural gas, it will raise the proportion of natural gas in the energy consumption mix to around 10 percent by 2020, from around 5.9 percent in 2015.
Natural gas imports will play an increasingly important role in the country's energy mix, it said.